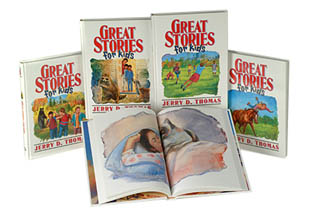 Once in a great while, a collection of children's stories arrives that makes a positive impact on the younger generation. Great Stories for Kids is just such a series. In the classic tradition of Uncle Arthur's Bedtime Stories, Great stories for Kids entertains while teaching your children about Christian values such as faith, self-esteem, making good choices, prayer, and dealing with real-life issues, such as:
Alcoholism at home
Child abuse Respecting others and yourself
Adjusting to divorce and stepfamilies
Stealing
Your kids will love the adventures and drama, and you'll value the character-building lessons that they learn while reading these treasured stories. Great Stories for Kids won't stay on the bookshelf - your family will read them again and again.
More than 130 stories in five volumes
Each volume bound in durable hardcover
480 delightful color illustrations
Table of contents lists story titles plus character-building topics
Also available in Spanish and French