Family Medical Guide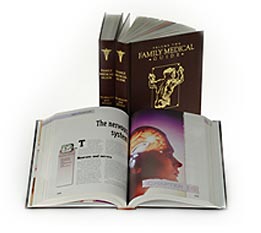 Your health is the most important possession you have. The Family Medical Guide to Health and Fitness will help you experience the best life has to offer through prevention, education, fitness, and lifestyle factors that promote vitality and long life.

Prepared by Mervyn Hardinge, M.D., Dr.P.H., Ph.D., and Harold Shryock, M.A., M.D., in consultation with specialists in each field of medicine, this three-volume home-medical encyclopedia is a current and invaluable resource for your health needs.

Learn more about:
The role of exercise and nutrition in adding years to your life
Emergency procedures and first aid
The reproductive process and the birth of a child
Nutritional inadequacies and eating disorders
Infectious diseases
Danger signals for cancer and heart disease
Healthful vegetarian recipes
The systems of the body and their disorders
The new Family Medical Guide may be the best investment you've ever made for your life.

Comes With a Free Interactive CD!



Now an interactive CD entitled Navigating to Health and Wellness comes free with every Family Medical Guide set.

Compatible with Windows 95, Windows 98, Windows NT, and the Macintosh OS.

Features several interactive sections related to health and diseases, including "Nutrition," "Your Body," "What Ails You," "Exercise," "Games," and "Web Links." All sections are united by a nautical theme.

Complements the Family Medical Guide set with resources unique to the multimedia CD-ROM, such as:

Interactive diagnosis of common illness symptoms.
An anatomical section that correctly identifies various body structures when your mouse moves over that structure.
A meal creator that tabulates your meal's calories and then evaluates the meal in terms of healthfulness.
An exercise area that explains and dynamically determines your individual "target heart rate."
A Web resource section that automatically opens your internet browser and goes directly to the requested URL.